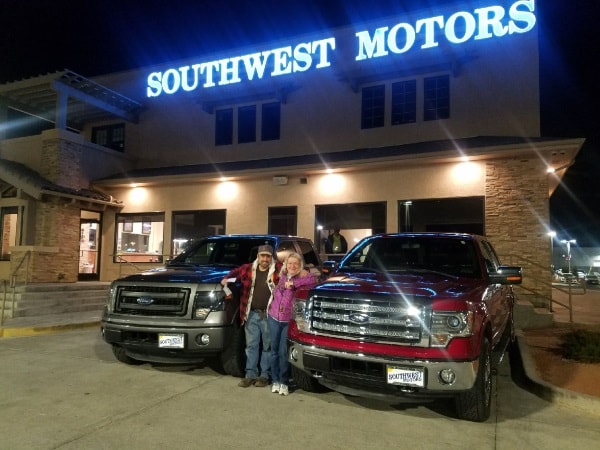 For decades, people have trusted Ford to get them from point A to point B. Ford is synonymous with reliability. Their lineup of hard-working pickups, versatile hatchbacks, spacious SUVs, family minivans, luxurious sedans, and speedy coupes (can anyone say, "Mustang?") offers something for every type of driver.
As one of the Big Three American manufacturers, you know you can rely on Ford. Rest assured that all of the vehicles that Ford makes are tested and perfected, making them ready for you, your family, and your individual needs.
Southwest Motors has all the Ford cars, trucks, and SUVs that make this brand an American icon. The people of Pueblo, CO choose Ford for a variety of reasons. Ford models are innovative and stylish, incorporating the latest technology and premium features.
Navigation, Bluetooth, sunroofs, power doors, power windows, backseat entertainment, stow and go seating, and more offer a comfortable ride at an unbelievably affordable price. An SUV with four wheel drive will get you and your passengers through the harsh Colorado winters, while an F Series pickup can handle all of your heavy lifting.
Check out Southwest Motors' inventory on Ford Escapes, Ford Mustangs, Ford Edge, and the Ford F-150. These hardy, powerful vehicles are intelligent and very popular with many in the greater Pueblo area. Our customers want their vehicles to handle the hectic pace of their daily lives, from work to after-school activities, to an evening out.
Our extensive lineup of Ford vehicles will get you where you need to go. You're sure to find a few favorites. Get ready to test drive some reliable Ford models. You won't know which to choose by the time you're done!
The staff at Southwest Motors invites you to visit us at the dealership today. We pride ourselves on honesty and integrity, and won't pressure you into a choice you're uncomfortable with.
With our hassle-free financing, we'll get you approved in minutes. No need to worry about getting into a Ford that you can afford. Pun intended. Our team of finance gurus will do all of the dirty work for you so you don't have to worry.
We are excited to show you more of our used Fords and what they can do for you. Call us, or stop in today. See you soon!